The European Ethics of Care Network provides a forum for researchers coming from disciplines like Philosophy and Social Sciences, as well as Theology, Medicine and Nursing Science. Their common point of departure is the ethics of care articulated in the study "In a Different Voice" by the American psychologist Carol Gilligan, and in a political development of this in the book "Moral Boundaries" by the American political scientist Joan Tronto. From the late 1980s on, the ethics of care has been pursued and further explored in a variety of conceptual and empirical research, conducted within different disciplinary paradigms.
The Ethics of Care has gained insights on issues such as the relevance of relatedness for getting into conflicts and for solving them; the importance of experience as a source of reflecting on and coping with issues; the value of repairing and re-newing social relations; the importance of attentiveness and concern as well as the impact of responsibility within interpersonal relationships, in organisational settings and in political decision making processes. It examines whether or not listening, support, assistance or help are provided and how these activities are performed. In this way, the Ethics of Care is a critical approach. It expresses the importance of placing care at the centre rather than the periphery in order to challenge power and privilege, and identifies the transformation of structures and institutions necessary to achieve this.
The demand of transformation in personal, social, organisational and political contexts is often pursued by using models of deliberation. They should support conflict solving in organisational settings and structure procedures in political decision making. But models of deliberation are often conceptually limited in requiring a certain kind of argumentative speech. Care ethical approaches, in contrast, advance a variety of articulations including bodily expressions and gestures.
This conference aims to explore whether the Ethics of Care can inspire and further develop concepts of deliberation that allow for bringing in diverse experiences with daily life and struggle as well as with successful moments and advance biographical narratives supported by practices of listening and translating. The conference seeks to explore organisational preconditions under which a culture of listening and concern might flourish. Furthermore it analyses how organisational conditions can be transformed to enable non-paid or low-paid workers in private households, in the health care sector and the welfare system; service users, clients and patients to raise their voices and broaden the participatory sphere.
The Conference is arranged by Marian Barnes (Professor of Social Policy in the University of Brighton's School of Applied Social Science) Elisabeth Conradi (Professor of Philosophy and Social Theory at the Baden-Württemberg Cooperative State University Stuttgart) and Frans Vosman (Chair 'Ethics of Care' at the University of Humanistic Studies at Utrecht and research group 'Care and Contested Coherence').
The program concentrates on issues of deliberation and transformation from an ethics of care perspective, thus inviting some colleagues to give a presentation and inviting all participants to join in common reflection. All participants are requested to register by e-mail at ethicsofcare(at)dhbw-stuttgart.de. With the response to your email, you will receive a confirmation.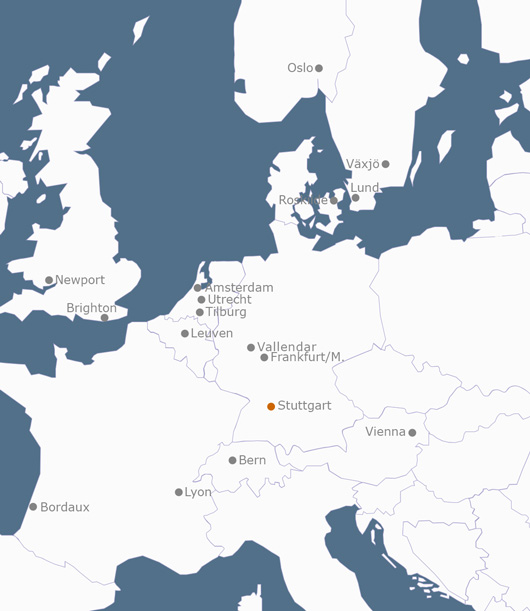 The conference will be hosted by the Duale Hochschule Baden-Württemberg Stuttgart (DHBW), which has its buildings in the center of the city. You can reach Stuttgart Airport directly from Amsterdam, Brussels, Birmingham, Copenhagen, London, Paris and other cities. The train from Frankfurt Airport or Frankfurt central station to Stuttgart takes 90 Minutes.
The Baden-Wuerttemberg Cooperative State University Stuttgart, Germany (DHBW) integrates academic studies with workplace training. The Social Work Faculty of DHBW Stuttgart has appr. 1000 students and 18 professors. In three monthly intervals the students regularly switch between study at the university and work in social institutions. The students work in turn with people in all phases of life: in their early and later childhood, adolescence and their old age, in institutions like kindergarden, psychiatric wards, schools, nursing homes, hospitals, prisons, doss houses and children's homes. Some of the clients have disabilities or mental health and addiction issues. Research is conducted in the field of health care and dementia support, inclusion, political science, lifelong learning, profession, educational studies, social economy, theory-practice-relationship and civil society.

You can download the pdf with all conference informations here >>